eBooks
If you are an Ayer Library patron with an active CW MARS library card, you can access a large collection of eBooks, audiobooks, and streaming movies, television series, and classes through Libby or OverDrive.
---
Libby is an e-reader app available through OverDrive. If you are just getting started with OverDrive, we recommend using Libby. Libby is the easiest way to borrow and enjoy eBooks and audiobooks from your library and is available for Android, iOS (iPhone/iPad/iPod touch), and Windows 10. Get started with Libby or learn more about it.
For a free, online tutorial on using OverDrive and Libby, visit Niche Academy. 
OverDrive is a collection of eBooks, downloadable audiobooks and videos that you can access using your Ayer / CW MARS library card. If you would like to read a book on your Kindle, Nook, iPhone, iPad, Android phone, or other e-readers, smartphones, or computers, you can use the OverDrive Digital Catalog.
When you enter the Digital Catalog, log-in with your Ayer Library card number (barcode on the back of card) and you will be able to access OverDrive ebooks.
Click here for instructions to start using the OverDrive app.
---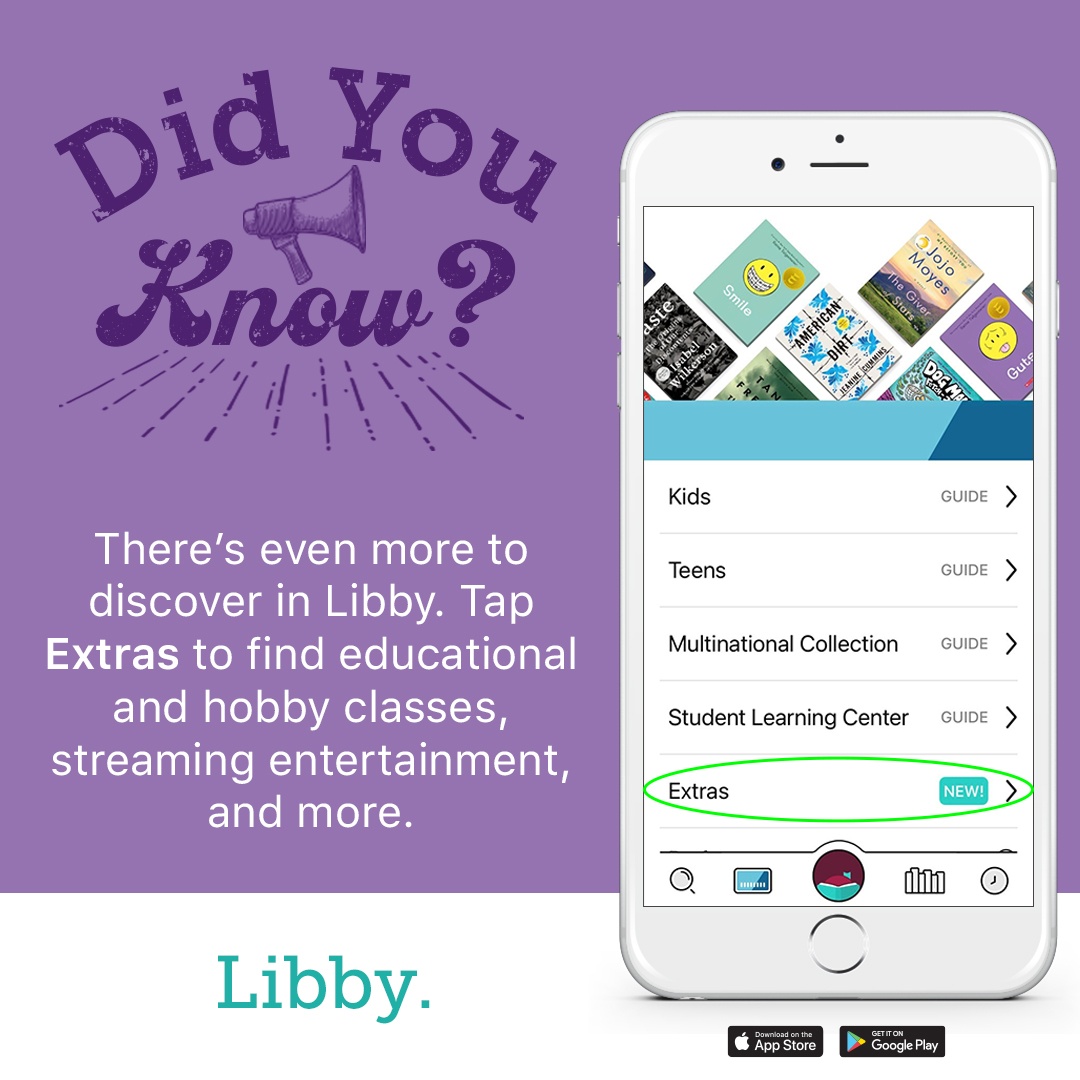 New to Libby!
Libby (and OverDrive) now offer fun and educational courses that you can access using your Library Card. Just tap on EXTRAS to see what there is to explore.
Looking for something new to watch? Try our new streaming services through Libby.
Take a look below to see what is available to you!
Stop dreaming and start making with access to fun, creative classes through Craftsy where you can express yourself through cooking, drawing, knitting, quilting, and more! Available through Libby under EXTRAS.
Enhance your wellness practices and personal development with hundreds of expert-led live classes covering topics like meditation, parenting and spirituality. Available through Libby under EXTRAS.
Get ready to strike a chord with these self-paced online music lessons by ArtistWorks taught by the masters. Players of all levels will improve skills, get feedback, and practice with purpose. Available through Libby under EXTRAS.
This collection includes more than 250 courses, led by the world's top experts, covering a broad range of subjects, such as science, mathematics, philosophy, history, literature, fine arts, music, travel, business, and personal development. Available through Libby under EXTRAS.
Get into the school of your dreams! Improve ACT & SAT scores & make it happen with Method Learning's self-paced online lessons. Available through Libby/Overdrive under EXTRAS.
Learn something new today! With Universal Class, you have free access to 500+ online courses with CEU credits available! Available  through Libby under EXTRAS.

Stream classic and contemporary features, award-winning shorts, film festival favorites, and documentaries from around the world. Available through Libby under EXTRAS.
Stream the world's largest collection of on-demand full-length music performances, concert films, and music documentaries. Available through Libby under EXTRAS.
---
CW MARS OverDrive Reciprocal Lending Agreement
You can now use your CW MARS library card to borrow eBooks, audiobooks, and streaming movies, television series, and Great Courses from other library networks in Massachusetts.
In addition to using OverDrive through CW MARS (http://cwmars.overdrive.com/), you can now also log into:
Boston Public Library – https://bpl.overdrive.com/
CLAMS – https://clamsnet.overdrive.com/
Merrimack Valley Library Consortium – https://mvlc.overdrive.com/
Minuteman Library Network – https://minuteman.overdrive.com/
NOBLE – https://noble.overdrive.com/
Old Colony Library Network – https://ocln.overdrive.com/
SAILS – https://sails.overdrive.com/
On the "Sign In" page, you will see a box that asks you to "Select Your Library from the List Below." CW MARS patrons should choose "CW MARS Patrons" from the list. Then you can enter your library card barcode to log in.
This process is the same regardless of which library network you are logging into.
There is no "single sign-on." You will have to sign into each library network separately to access that library network's eBooks and audiobooks.
You can borrow eBooks and audiobooks from the other library networks. The loan periods are subject to the local rules of that library network and not to the rules of CW MARS.
---
Massachusetts residents may apply for a Boston Public Library eCard.
Get instant access to thousands of eBooks, databases, movies, audio files, & magazines.